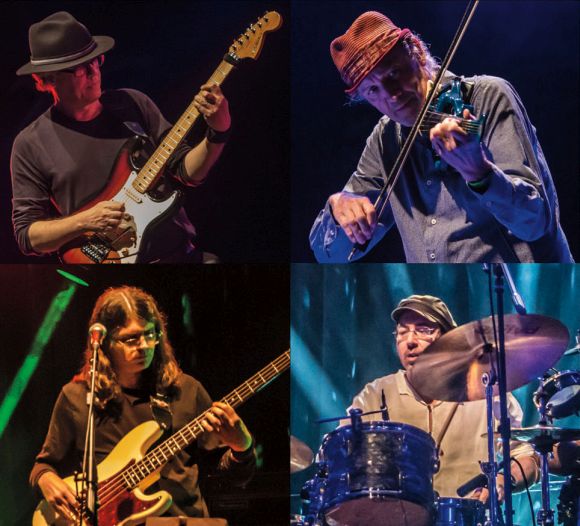 NOVO ÁLBUM - LIVE WITH DAVID CROSS
Gravado ao vivo no SESC Belenzinho em 22 de julho de 2017 o álbum conta com a participação de David Cross (ex-King Crimson) no violino em 9 das 13 faixas. São interpretadas músicas do álbum "Bartók in Rock" além de clássicos do King Crimson. Possui também uma adaptação inédita de Mikrokosmos 78 - Five tone Scale, também de Béla Bartók, além de Tonk , composição de Cross de seu álbum Exiles.
O CD estará disponível a partir de 04 de junho de 2018 mas a versão digital já está online em nossa página no Bandcamp.
-----------
NEW ALBUM - LIVE WITH DAVID CROSS
Brazilian band DIALETO is releasing its new CD, a live album with the guest participation of violinist David CROSS, ex-King Crimson.

The album, entitled simply "Live with David Cross", was recorded in 2017 at São Paulo, Brazil, on the second of a pair of concerts held to promote the band's then new album,"Bartók in Rock".
As such, the material of this album includes some live versions for the Béla Bartók pieces that were adapted by DIALETO, as well as renditions of a few Crimson classics and one track by David Cross.
New album "Live with David Cross"
For international orders click here -> BUY THE CD ! <-
Para comprar o CD no Brasil clique no botão abaixo
R$ 35,00 incluindo frete para todo o Brasil. O CD será enviado a partir de 04 de junho de 2018
Musicians:
Nelson Coelho - guitar
Gabriel Costa - bass, vocals
Fred Barley - drums, vocals
David Cross - violin
Release date - 06/04/18
Data de lançamento - 04/06/18